A bespoke generator and hybrid set up was used to provide temporary power whilst four new customer passageways were being constructed at Kennington Tube Station in South London.
The Challenge: 
It is well documented that the air quality in London is well below the standard that should be maintained. New construction sites have a significant impact on air quality, as well as having to manage noise pollution, emissions and any health and safety risks. The challenge on this project was to minimise each potential problem as efficiently as possible. 
Kennington Tube Station sits under an extremely busy road in a concentrated residential area which already emits large amounts of pollutants, so meeting government emissions targets was always going to be a challenge. To further add to the complexity of the issue, there were limitations on space available on site for the temporary power set up. 
The Solution:
To combat all of these specific requirements whilst still providing a time sensitive solution, Power Electrics supplied a super silent 300kVA Containagen combined with a 195kVA hybrid system using remote management software. The on-board software ensures that the generator is only running when it needs to be, therefore minimising emissions output, noise levels and energy usage through the use of real-time data that is constantly harvested from the generator.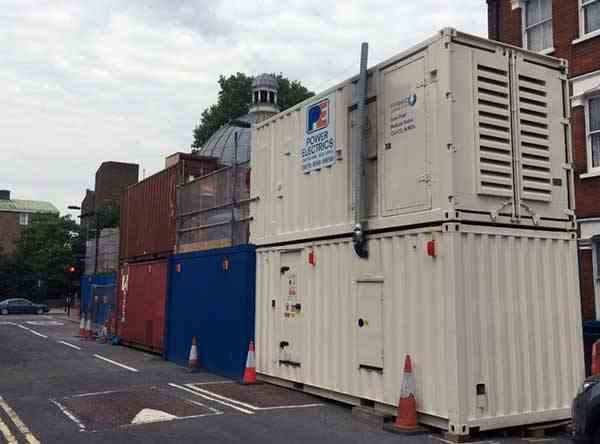 Due to the spacing issues on site, the hybrid unit was stacked on top of the generator incorporating a custom built exhaust system, reducing the footprint of the job by 45%.
This project also provided the perfect opportunity to utilise Green D+; a high-performance HVO (Hydrotreated Vegetable Oil) fuel which reduces your carbon emissions, nitrogen oxides and particulates. Combining the Containagen, the hybrid unit and Green D+ together was key in helping Power Electrics meet the specific requirements for this project.
Major Project Sales Manager, Austin White commented: "Multifaceted, complex projects like this one always present unique challenges. Prioritising energy usage, noise and emissions whilst also factoring time and spatial constraints that go hand-in-hand with London construction sites was extremely complex and required incredibly detailed project management. I am delighted with my team for delivering a solution that kept costs and energy usage down, minimised emission particulates and didn't disturb local residents."
Like this? Read similar case studies: