NHS Nightingale Hospital Bristol
Over 6MW of temporary power has been delivered to UWE Bristol's Exhibition and Conference Centre for the NHS Nightingale Hospital Bristol. The 300-bed temporary hospital was one of seven open around the country to help in the fight against COVID-19.
To convert the existing infrastructure into a temporary hospital, Power Electrics were approached by the principal contractor and supporting sub-contractors to provide temporary generators. The generators were required to support additional on-site power requirements, further resilience and redundancy to the mains supply and act as prime power to sections of the temporary hospital.
To support the site, Power Electrics provided an engineered solution supplying 17 generators ranging in size from 20kVA to 500kVA.
The Challenge
Due to the emergency nature to the global pandemic, temporary hospitals were required around the country in order to provide extra capacity for the NHS. From the initial concept, the former exhibition centre was required to be converted into a temporary hospital within 24 days. This involved initial site survey, specification acceptance, delivery, installation and commissioning in line with NHS standards.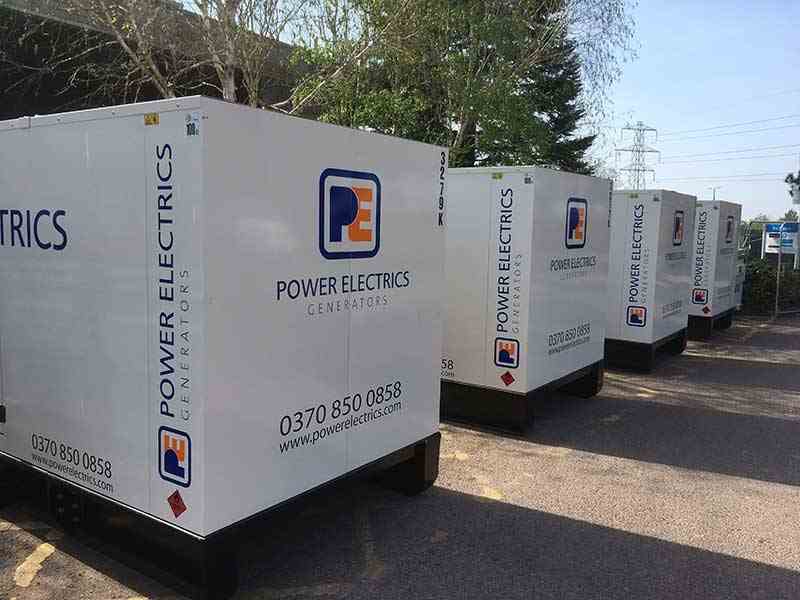 The Solution
A dedicated project management team worked closely with the site contractors to ensure the 6MW of generators we prepared, delivered, installed and commissioned on time.
Working closely with the NHS authorising engineers and the site's main contractors, each application was thoroughly reviewed to ensure the temporary power packages were designed and sized to suit each element.
Utilising the generators synchronising capabilities, medium-sized 'power farms' were installed for prime power sections of the site. Operating these set-ups were ideal for the application; with the sites fluctuating load, consideration of fuel consumption and requirement of a minimum N+1 redundancy.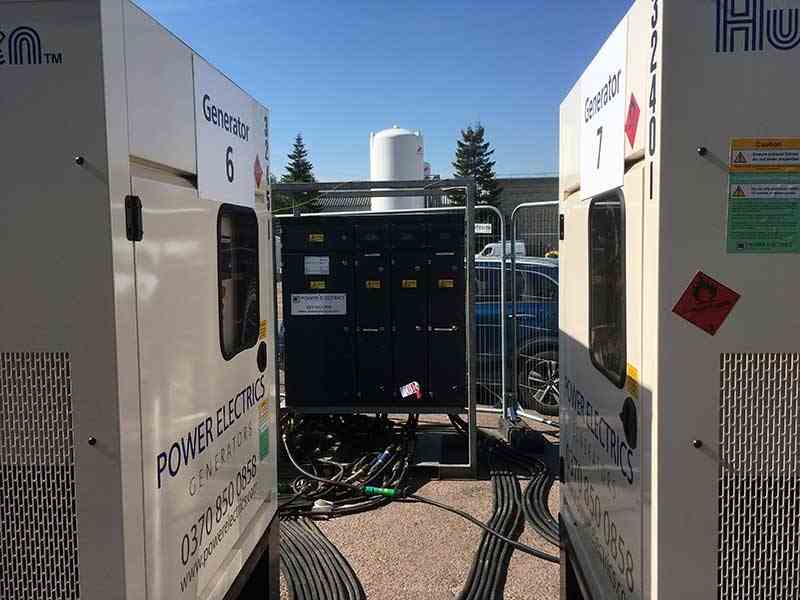 Additional resilience in the form of temporary standby generators were also installed, to work in conjunction with the site's existing standby generators, integrating multiple generators into the existing building controls and BMS systems - providing additional on-site capacity.
4.5MW of the 6MW of temporary generation was utilised through either medium-sized power farms or additional standby resilience. The remainder of the equipment was used for on-site medical and emergency services support.   
All generators on-site are remotely monitored by Power Electrics Service Desk, for instantaneous response to any on-site issues and to support our ongoing Fuel Management programme.
Rob Mason, Rental Projects Manager at Power Electrics said; "To meet the challenge of such a quick turnaround for a major project, we explored all options available to us. There were a  variety of interesting elements throughout, one of which was delivering large amounts of cable and ancillary equipment through the roof of the former exhibition centre.  
The use of a mobile crane saved a considerable amount of time for not only us, but the vast number of contractors on site. This method of delivery helped us complete the job within the required timeframe."
In opening the facility at the end of April, The Earl of Wessex said:
"I am delighted that the Severn hospital networking now has this extraordinary facility to help in the fight against COVID-19. Sincere congratulations must go to each and every one of you involved in contrasting this hospital in just 24 days."