Power Electrics provided a 2,000kVA Prime rated HTM compliant set to a South Wales hospital to replace an older unit. As well as a district general hospital the facility also provides teaching for medical students of the local university medical school.
The Challenge
The hospital required a generator set to replace a much smaller and older unit which was previously located in a plantroom. The facilities updated infrastructure called for a new set which required greater power than what was previously available. The new generator would also keep the hospital up to date with future requirements such as the G99 legislation which sets out a list of criteria for connecting generation equipment to the electricity supply network. 
The larger set meant that it was impossible to place in the plant room that had stored the smaller unit making the hospital opt for a containerised package solution. Finding a location for a containerised solution near the switch room proved challenging on an already busy hospital site. The chosen location required exhaust fumes to be dispersed away from adjacent building air inlets.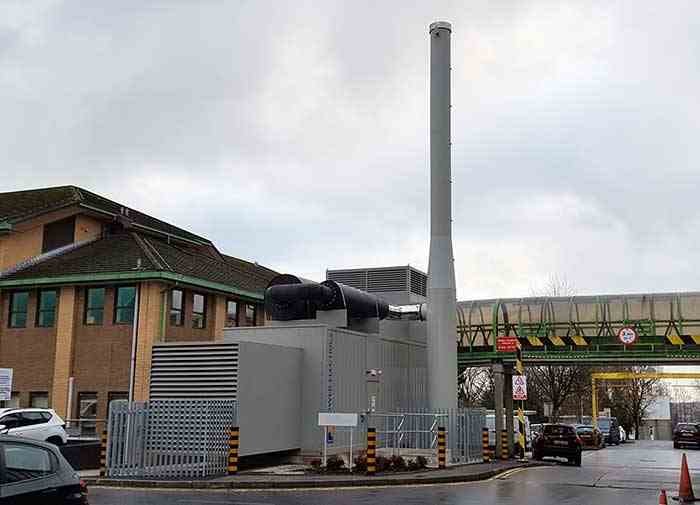 The Solution
To keep footprint to a minimum, the containerised package made use of a roof mounted inlet and an offset outlet in order to retain areas of public access.  To account for exhaust fumes dispersion requirements, the installation was complete with a specialist self-supporting chimney stack. The new generator incorporated its own bunded day fuel tank which was linked to the existing bulk fuel storage system.
Our team incorporated a Water Mist Fire suppression system and worked with the client to implement a fully synchronising CompAp control system with multiple Mains supplies.  The control system being future proofed to enable connection of a second set in the future. The project took nine months in total, from order to completion.