Our Battery Energy Storage (BES) units - also known as hybrid generators, hybrid battery units, or simply "hybrids" - are an increasingly popular way to reduce the environmental impact of traditional temporary power. BES units are designed to significantly cut fuel consumption and emissions, providing our customers a more economical and sustainable power solution.

What is a Hybrid Unit (Battery Energy
Storage Unit)?
A battery energy storage unit, or hybrid unit, enables energy, like electricity produced by diesel generators, to be stored and used/ discharged when needed. With a 90kWh battery capacity, Hybrid Units are a sustainable solution for many diverse applications.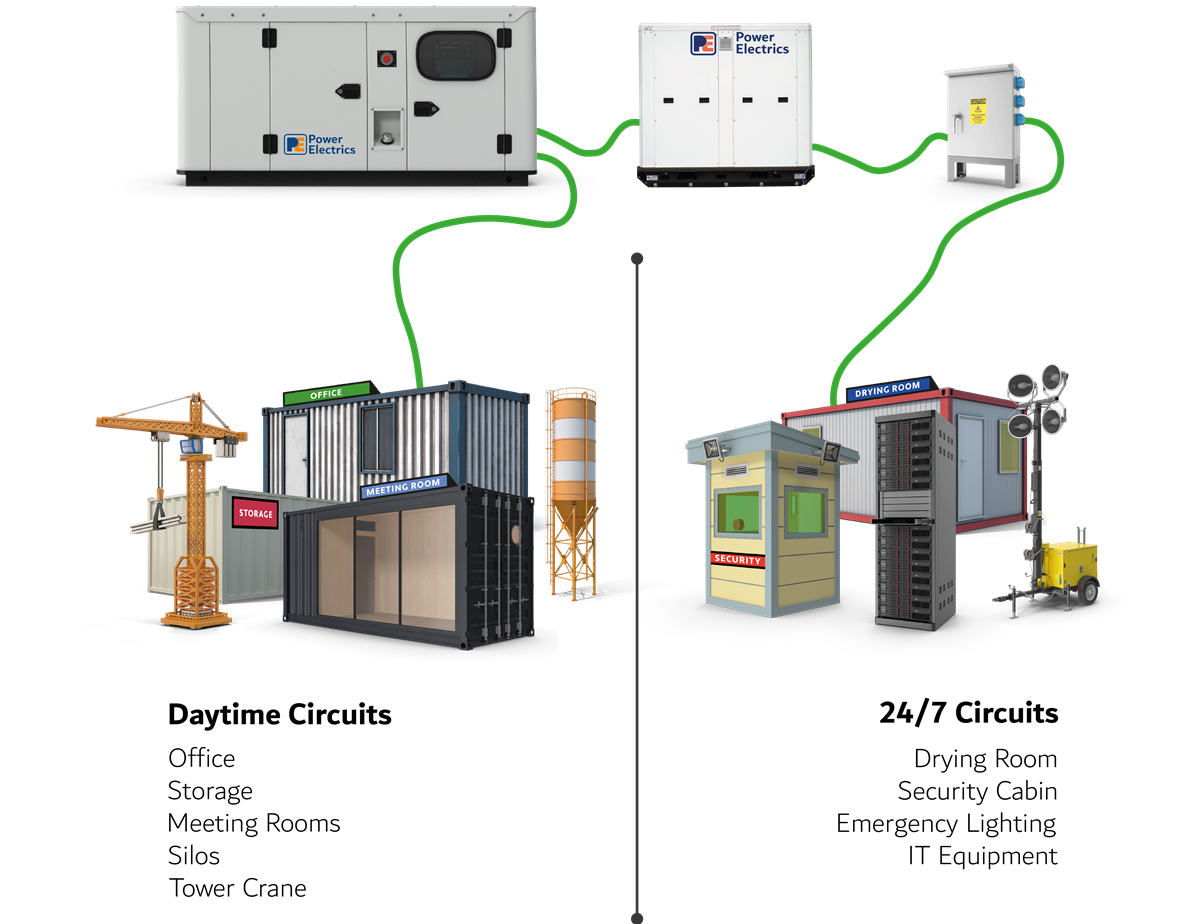 How they work
BES units (hybrid units) are understandably more advanced than the batteries you keep at home, nestled away in your drawers. BES units are charged by electricity, generated the majority of the time in our case, by diesel generators. The intelligent control system can be configured to keep the energy or release it, and support your application with a sustainable power supply when needed or at a pre-set time i.e. during the night.
Many applications, particularly those in the construction industry, have varying power requirements, commitments to reduce environmental impact, and noise restrictions. During the day, whilst the site is operating and functioning, the supply/load required is hugely different to that outside of the normal operating hours. During the quieter hours, with welfare facilities infrequently used, and plant operators finished for the day, it makes sense the power requirement reduces compared with the day.
But what happens during this period? A Generator typically runs inefficiently, burning diesel, adding to noise pollution and negatively affecting the site's environmental impact.
In most cases, BES units can be the ideal solution to meet that power demand when at its lowest point. The intelligent system control can monitor the power requirement, manage the charging and discharging of batteries, and control the generator. An automated, systematic solution that can be pre-programmed to provide silent emission-free power when required, for example between 6PM – 6AM. Or can be left to its own intelligent devices, managing your power supply as it sees fit.
Benefits of Battery Energy Storage Units (hybrid units)
Check out some case studies of our work below:
*Sign up to receive our newsletter and special offer emails. You can unsubscribe at any time via the link in our emails. All emails are from Power Electrics. We promise we will not sell or give away your email address to any third parties. For more details on how we use your information, please see our Privacy Policy.