Power Electrics' Fuel Management service is designed to ensure that your upcoming project runs smoothly. Our service offers flexible and effortless fuel planning, along with reliable and timely fuel deliveries.
We have made substantial investments in our Fuel Management department, including adding more tankers to our fleet, enhancing our fuel storage facilities, and upgrading our fleet telemetry systems. These improvements ensure that our Fuel Management service is more dependable and punctual than ever before.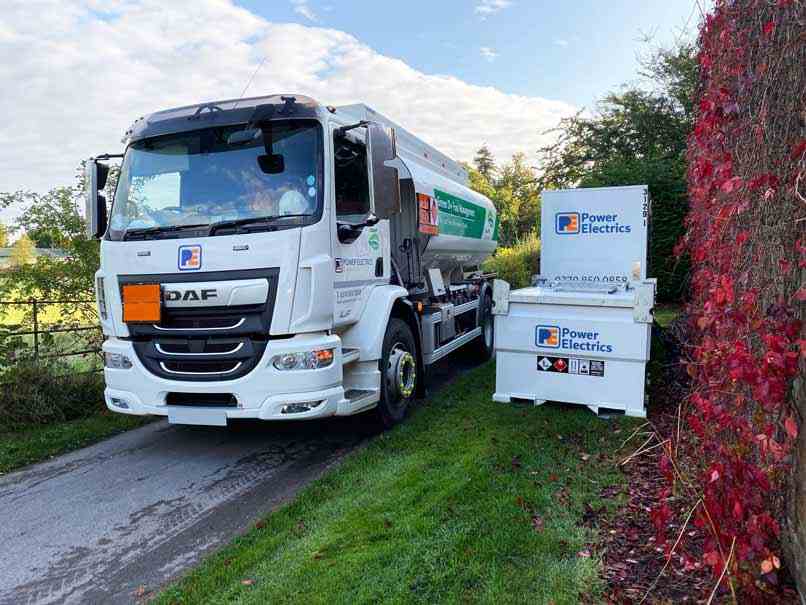 What are the benefits of using Power Electrics fuel management?
Hassle-free: We'll assess your fuel usage, organising deliveries for when you'll need them
High-quality fuel: As well as providing contaminant-free, high-quality traditional fuel, we also offer Green D+ HVO.
Fuel tank sizing: We'll provide you with a fuel tank designed to suit your application, allowing for the highest efficiency.
Qualified and Certified: With our team of experienced technicians and our bunded fuel tanks, our fuel management service limits the potential for fuel spills.
Fuel emergencies: At our depots, we maintain substantial fuel reserves to cater to any unforeseen fuel emergencies. This enables us to ensure a seamless and uninterrupted supply of fuel to our customers, even in the face of unexpected demand.
Flexible scheduling: If you need more or less fuel deliveries, we can accommodate those changes without a hitch.
National Coverage
You can benefit from the Power Electrics fuel management service wherever you are in England and Wales. All our depots, from South Wales to Milton Keynes, now have upgraded fuel storage facilities. These additions allow us to reduce waiting customers for all our customers.
See how close we are to you on our depot locations page.
Fuel Tankers
Having our own fleet of fuel tankers means we have greater control over deliveries, meaning we can provide a flexible fuel management service.  Our fleet of specialist fuel tankers ensures you get your fuel when you need it. Consisting of both 13,000 litre and 8,500 litre tankers, our fleet can provide fuel to a multitude of sites.
Safety Focused:
One of our core company values, implemented across the business and integral to the operations of our fuel management service. Our expert fuel technicians, experienced drivers and in-house fuel transport fleet prevent fuel spillages and environmental hazards.
We take every precaution to prevent spills from occurring, but in the rare case that one does happen, our teams are highly trained and equipped to respond immediately. With their expertise, we can ensure a swift and effective response to any spillage.
Additional Products and Services:
*Sign up to receive our newsletter and special offer emails. You can unsubscribe at any time via the link in our emails. All emails are from Power Electrics. We promise we will not sell or give away your email address to any third parties. For more details on how we use your information, please see our Privacy Policy.