Stage V generators are specifically designed to meet the low emissions targets set by the EU's Non-Road Mobile Machinery (NNRM) legislation. These sets help us provide increasingly sustainable power solutions that align with our environmental objectives and are part of our Journey to Green.
With an increasing number of major cities in the UK being designated as low-emission zones, Stage V generators are compliant and a critical next step in greener temporary power.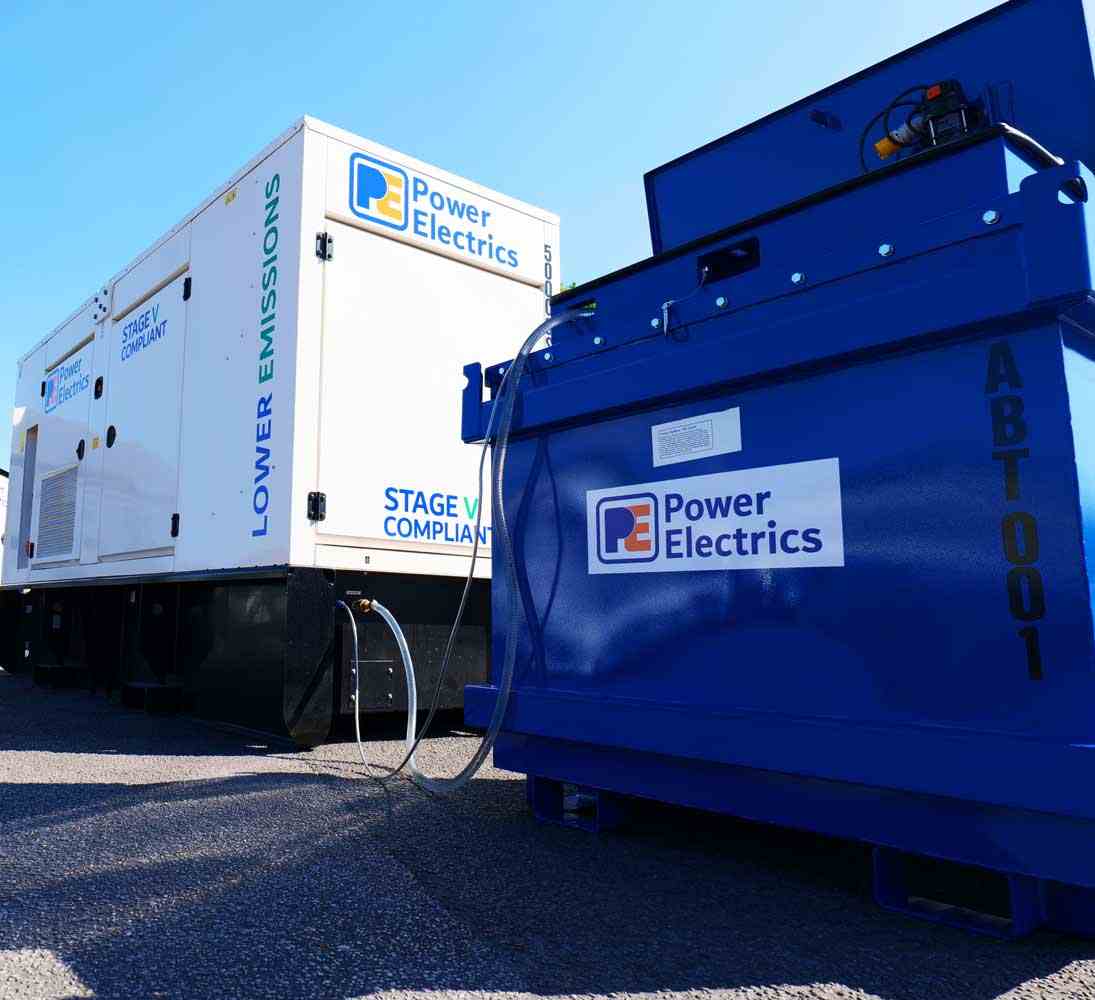 What is Stage V?
Stage V is the fifth iteration of the emission standard as part of the NRMM legislation. The legislation sets the criteria for levels of carbon monoxide, hydrocarbons, oxides of nitrogen and particulate matter produced for diesel engines.
The expectation is that as the standard is adopted across the UK, there will be a significant reduction in the levels of emissions created, reducing the carbon footprint of many high polluting industries.
Learn more about the legislation and the UK's Clean Air Zones here.
Stage V Features
To meet the increasing needs of the UK, Power Electrics currently offers Stage V sets ranging from 20kVA up to 500kVA, to cover all manner of projects.
Each of our Stage V generators feature:
Diesel Oxidation Catalysts (DOC).
Diesel Particulate Filters (DPF).
Selective Catalytic Reduction (SCR).
Ammonia Slip Catalysts (ASC).
AdBlue integration.
HVO fuel compatible.
Fully lockable sound dampening canopy.
Sound dampening mounts.
Heavy duty steal base with integrated double walled fuel tank.
Forklift pockets and heavy duty drag bar with skid pads.
Frequently Asked Questions
If you have any other questions not covered above, please reach out via the form below and one of our team will be happy to help.
*Sign up to receive our newsletter and special offer emails. You can unsubscribe at any time via the link in our emails. All emails are from Power Electrics. We promise we will not sell or give away your email address to any third parties. For more details on how we use your information, please see our Privacy Policy.