30 Jan
Journey to Green 2022
2022 was a landmark year for Power Electrics, notably our progression and investment towards our Journey to Green. Lowering our impact on the environment is important to us, as it is to our customers, suppliers and local communities; and this year, we took great strides in reducing our impact.
Temporary power solutions need to be reliable, efficient, and effective, so we've focused on areas we can lower emissions while retaining the dependability of traditional diesel generators and the service we offer.
Investments in Green Power Solutions
The below graphic details the investments that Power Electrics made into greener power solutions in 2022, including Battery Energy Storage (BES) units – typically known as Hybrid units – as well as Stage V Generators.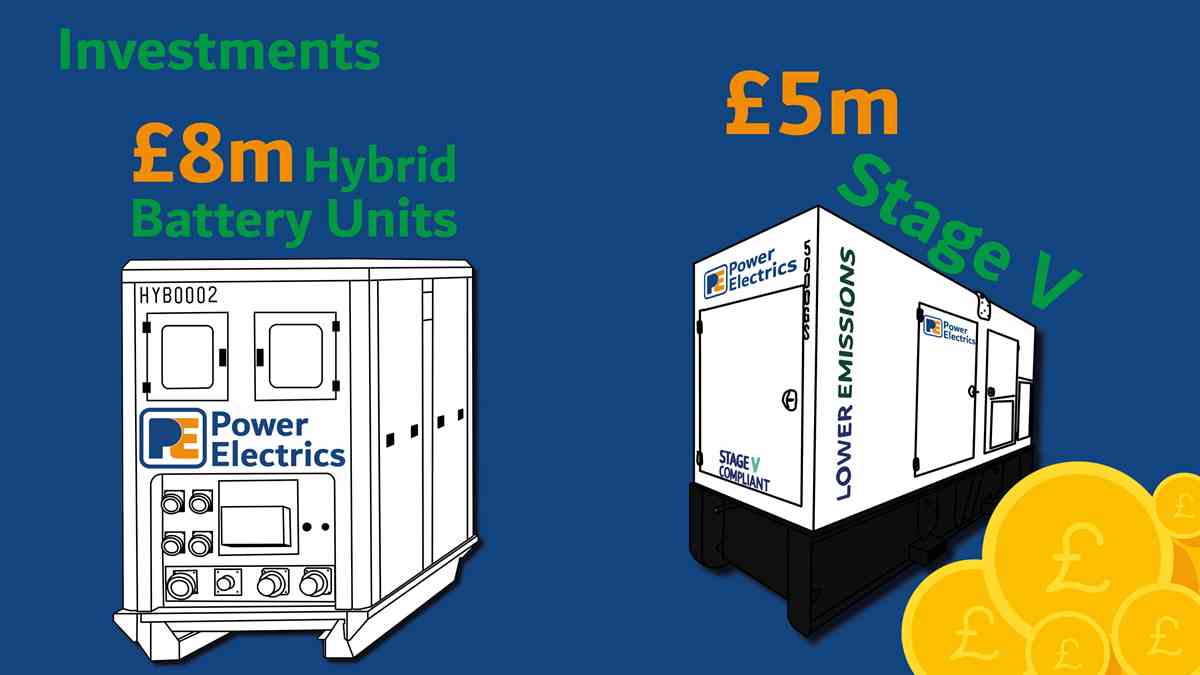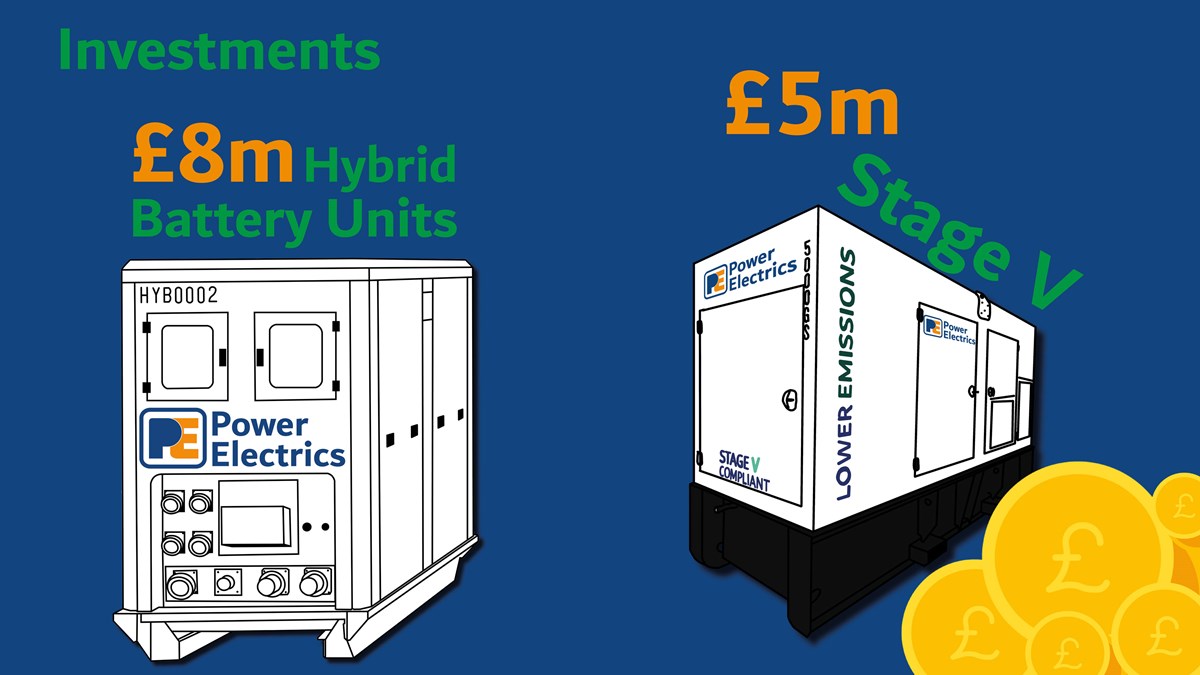 Battery Energy Storage (BES) Units
A Battery Energy Storage unit, sometimes known as a Hybrid unit, enables energy, like electricity produced by diesel generators, to be stored and then used/discharged when needed. BES units are understandably more advanced than the batteries you have powering your TV remotes and wireless keyboards at home. In our case, diesel generators usually provide the electricity that charge BES units. An intelligent control system can be configured to keep the energy or release it and support your application with a sustainable power supply when needed or pre-set i.e., during the night.
Many applications, particularly those in the construction and manufacturing sectors, have varying power requirements, commitments to reduce environmental impact, and noise restrictions. With an ever-growing demand and application, combined with our commitment to reducing our impact - we have invested significantly; £8M in the last twelve months. You can find out more about our BES units, or Hybrid units, here.
Stage V Generators
Stage V is the latest 'Engine Emissions Standard' applicable for diesel generators directed by European Legislation. With additional hardware and complexity needed to meet the updated requirements, it presents new challenges to the generator rental market. The legislation for mobile generators skipped Stage IV; a big jump compared to Stage IIIA in technology, including both engine modifications as well as off-engine after treatment.
Although we expect, as does the marketplace, that there will be commercial and operational challenges when it comes to a Stage V Generator Fleet, our £5M investment demonstrates our commitment to reducing our impact whilst on our Journey to Green, in addition to our ethos of remaining market leader status. You can find out more about our Stage V Generator investment here.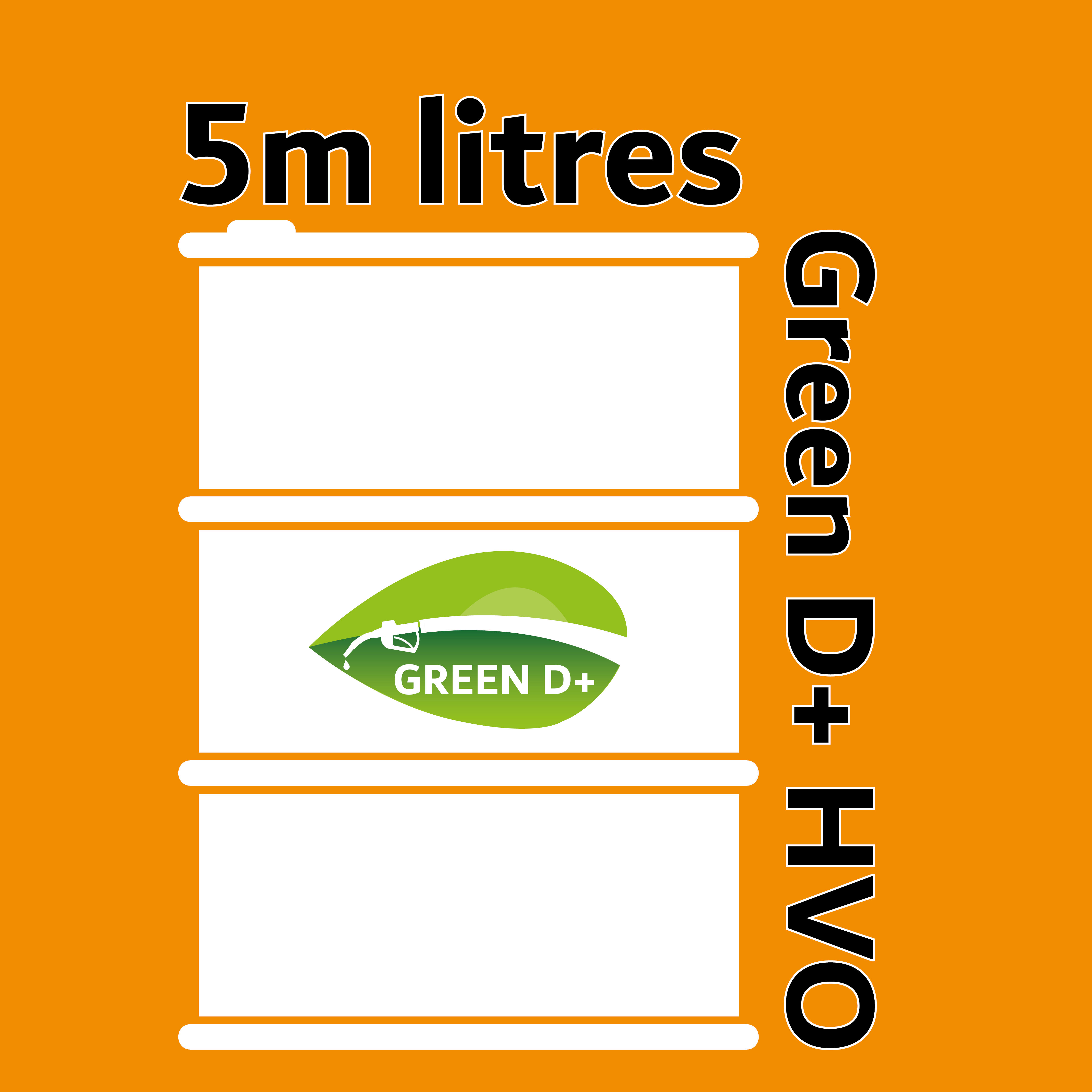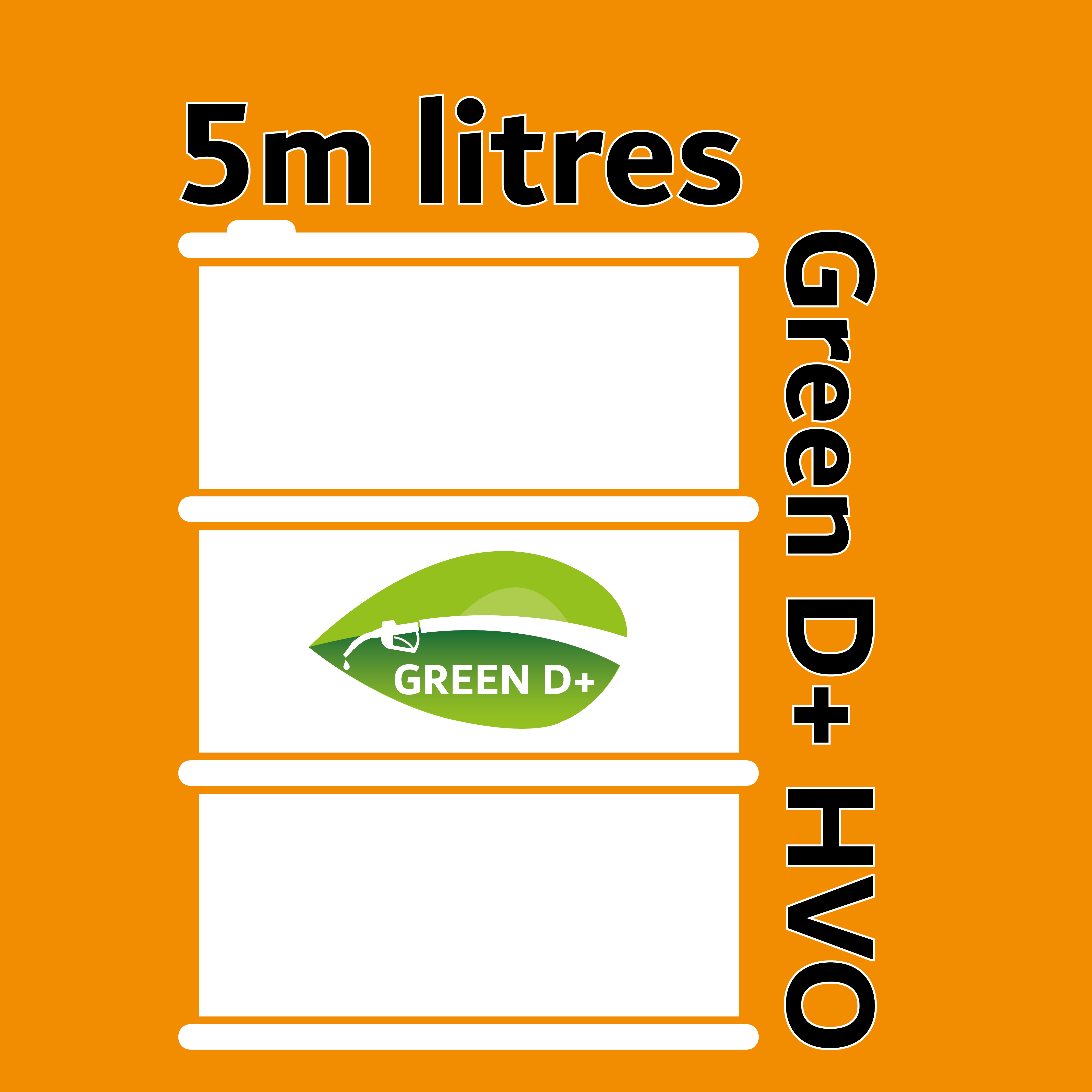 Green D+ HVO Fuel
Green D+ is a high-performance Hydrotreated Vegetable Oil (HVO) fuel which reduces your carbon emissions, nitrogen oxides and particulates. You can find out more about Green D+ here.
Power Electrics are committed to reducing the emissions emitted from generators, one way we do this is through the use of Green D+ HVO fuel.
Throughout 2022, Power Electrics provided its customers with over 5 million litres of Green D+ HVO fuel, as an alternative to diesel. As a result, it reduced CO2 emissions by over 14,000 tonnes. You can find out more about our fuel management service at the link below.
Emissions Savings
As a result of Power Electrics' investment in green energy solutions, we have managed to significantly reduce the environmental impact that would normally be released in the provision of temporary power.
By pairing BES units with our generators, we have reduced CO2 emissions by an impressive 13,000 tonnes. Similarly, by using Green D+ HVO fuel, we've managed to cut 14,000 tonnes in CO2 emissions.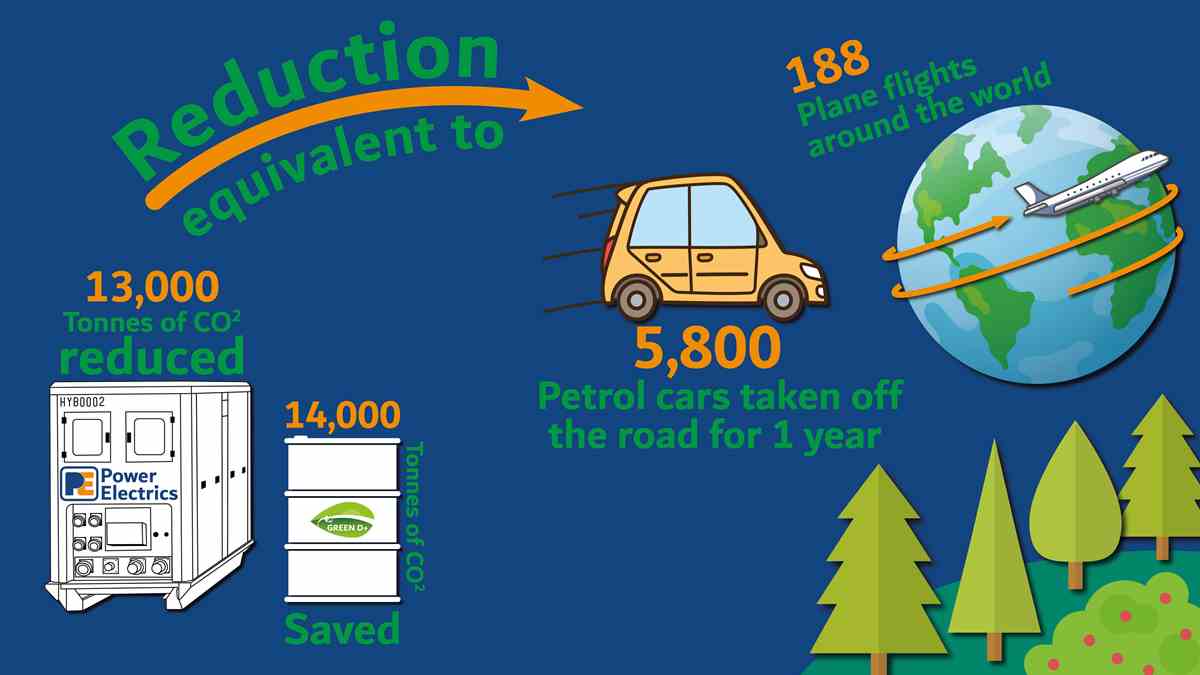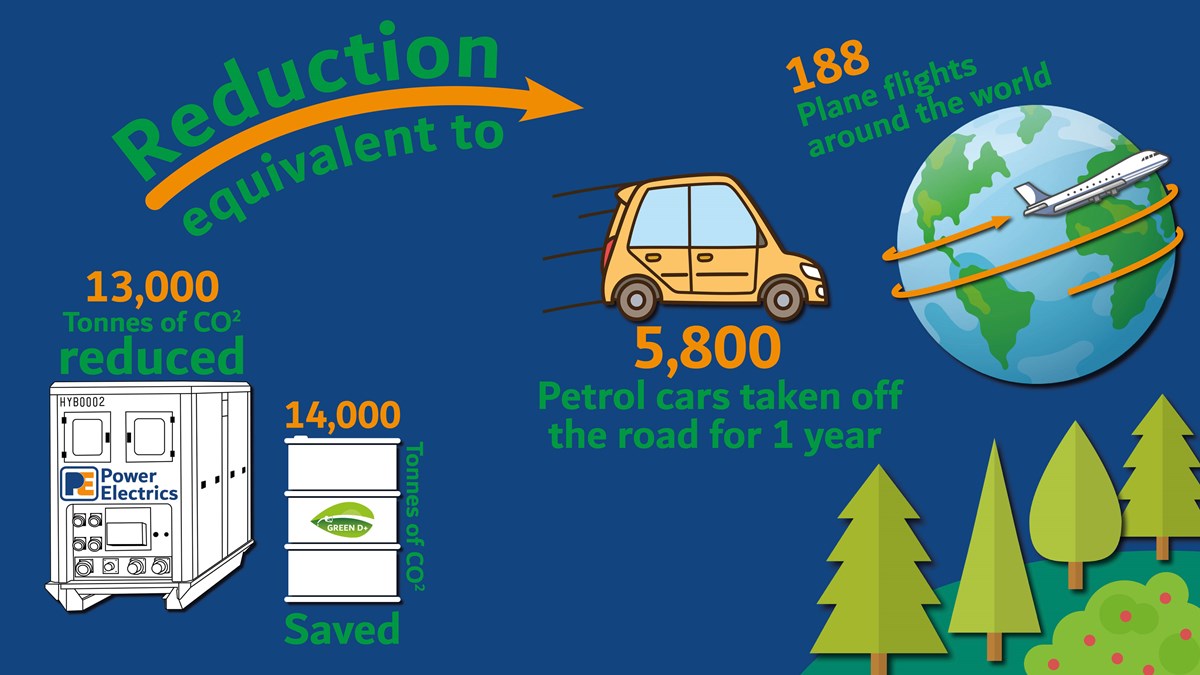 Combined, this results in a total reduction of 27,000 tonnes of CO2 cut in 2022. This is the equivalent of taking 5,800 average petrol cars off the road for a year, or flying a Boeing 737-400 around the world 188 times!
2023
With an ever-growing fleet of battery energy storage units and Stage V sets, coupled with the continued use of Green D+ HVO fuel, Power Electrics will continue to cut emissions on its Journey to Green in 2023.
If you would like to know more about how Power Electrics can help cut the temporary power emissions for your next project, please reach out to one of our team at the link below.