Multi-Megawatt for Research Centre
Our team of generator specialists worked alongside a client to complete a large project where continuous power was critical. We provided the client a turnkey solution that comprised of two weeks at a science and research centre in the West of England.
The Challenge 
The client required urgent maintenance which meant the entire site had to be taken off the HV ring main and supported solely by generators. The original standby generators weren't working meaning the old mains had to be switched off whilst work was carried out. This required 11 different sub stations to be connected on LV and 24/7 engineer cover.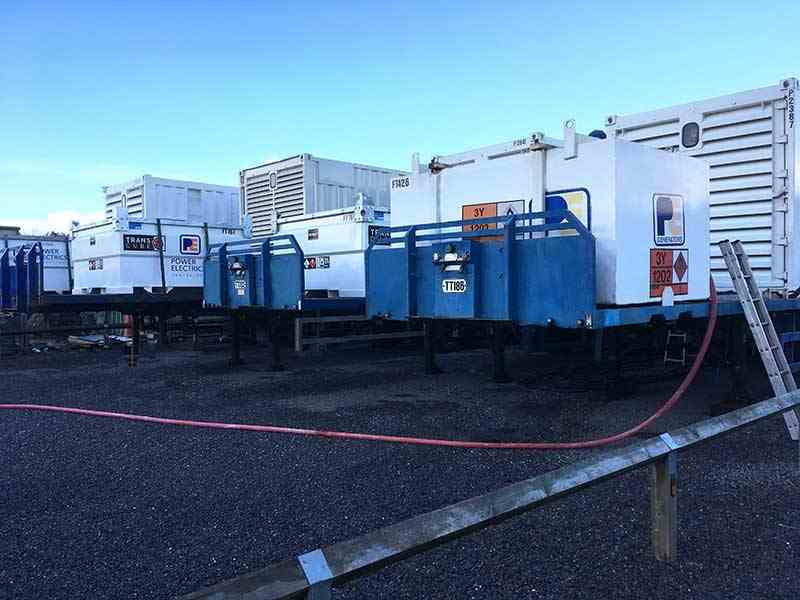 The Solution
Power Electrics worked tirelessly to meet the deadline, which included delivery of all equipment, installation and connection as well as scheduling 24/7 on-site cover where engineers worked 8-hour shifts. 23 generators were hired to our client, eight of which were 1250kVA and 15 of which were 500kVA, and 9000 metres of cable to cover the large site. To put the size of the site into perspective, an estimated 170,000 steps were taken by team members over a 4-day installation period.
Alex Hill, Business Development Manager, was responsible for ensuring the project ran smoothly - "We were given a tight schedule for installation and commissioning. From the initial call from the client to the day of energisation we had 7 days; that included a site survey, scheduling of 24/7 on site engineer cover and four days to deliver, place and install the 23 generators, tanks and 9km of cable."
Several substations were deemed as critical supply and needed additional resilience, with that several substations had N+1 redundancy. Along with giving the N+1 resilience, we had to synchronise the primary generators at the majority of substations; this prevented planned shutdowns on site and allowed the end users staff to carry out normal working patterns without disruption.
Rob Mason, Projects Manager, oversaw the project installation team – "Efficient planning was key to the success of the project, utilising our own transport fleet ensured we followed the strict timescales and delivery slots throughout the install stage, allowing me and the team to concentrate on installing the generators and support energisation of the various substations".